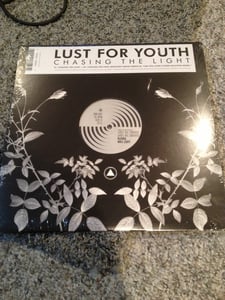 $

12.00
Distro Item from Sacred Bones. LFY's catchiest and cleanest release yet. For fans of classic SPK, Cold Cave, and the current slew of lo-fi EBM/synthpop revival.
Sacred Bones says: "Swedish producer, Hannes Norrvide has been inconspicuously hinting at his brighter side throughout his last couple of releases. What began as a lo-fi, atonal, bedroom synth drone project in 2009 has slowly but surely been evolving into a full frontal synth-pop assault. Louis Pattison very aptly caught on to this natural breeding ground in his review of Growing Seeds for The Quiteus, "If you take the two musical genres of noise and synth pop and trace them back, back through Wolf Eyes and La Roux, all the way back to Throbbing Gristle and Cabaret Voltaire and The Normal, you reach a point where the two lines wind together and fuse... In the last few years, a number of groups have emerged who, whether by intention or not, are working to reconcile these two paths of noise and synth-pop."
While Hannes' head might still be in SPK, his heart is clearly yearning for the more transparent ideology of The Pet Shop Boys. On his new single, "Chasing the Light," Norrvide comes out of the shadowy closet to reveal his most sun-drenched optimistic work to date; and the results are stunning. This shimmering anthemic banger features additional production work and back up vocals from SB label-mate Loke Rahbek of Vår who's label, Posh Isolation, was one of the first to release works from Norrvide. The remix on side A is from NY producer and Four Tet collaborator Anthony Naples. Side B features a club edit of the track "Saluting Rome" which features additional percussion from Kristian Emdal (also of Vår). Hot on the heels of a select bi-coastal string of dates from last December, the duo will be doing a full US tour later this year."