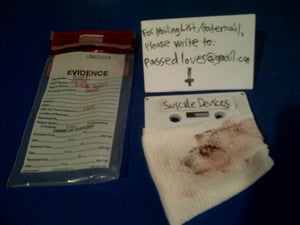 $

5.00
Suicide Devices are a new Michigan hardcore punk outfit with nothing to lose. Venomous and volatile. Very raw. Single sided, six original songs plus a Pixies cover.
The demo tape comes housed in bloody gauze and permanently sealed in an evidence bag. Includes Passed Loves promotional one-sheet insert.
33 copies. Free shipping within US.
listen to the release in its entirety and download at your own price at http://passedloves.bandcamp.com